I have been reading a lot lately on social media about people's perceptions and opinions of what they class as art and Porn.
Having read many opinions on the subject I have decided to run a little experiment to find out what is the general opinion on what some would class as an artistic nude and yet others would class as obscene or porn.
Below are a series of images and I am asking you to decide which ones you see as art and which ones you see as nothing more than porn.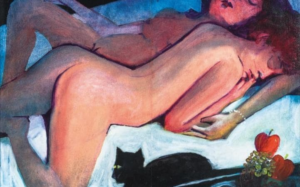 This first image titled, Women Lovers by acclaimed Australian artist Charles Blackman caught my eye as it was recently banned by facebook much to the disgust of the gallery that wanted to display it for auction purposes.  I assume for containing lesbian connotations, nudity a bare bottom and a partially visible breast.
For me, I see nothing wrong with the image. It is a subtle portrayal of a couple who are in love and cherish each others company. It is in no way offensive and portrays what is, in fact, an everyday part of normal life whether we choose to acknowledge it or not.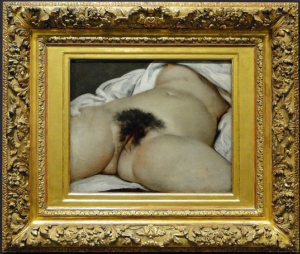 This next image by the Gustave Courbet is a highly debated piece which is currently hanging in the  Musée d'Orsay. Its title is The origin of the world and is a realistic portrayal of an erotic female nude which leaves nothing to the imagination.
Although at its time, when first painted I believe it had a more political agenda, for me, its title clearly states that it is an interpretation of what some may consider being, The origin of the world, as without the urge or ability to reproduce there would be no world, for mankind, at least. I personally find this in no way offensive and more a celebration of the female form and its power to reproduce and nurture mankind and therefore I would definitely not class it as porn.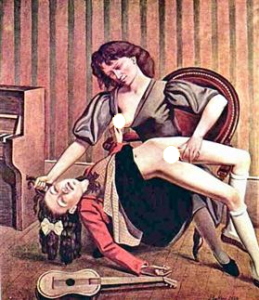 This next painting by BALTHASAR KŁOSSOWSKI DE ROLA, aka, Balthus is titled The guitar lesson and features a young female bent backward over the knee of an older female. There is nothing left to the imagination as it is clear what is happening. For the uncensored image please visit Here
For me, you could raise several arguments over the content portrayed within the painting and argue that it is abusive, obscene, explicit even, but is it still art?
TBC.
Products from Amazon.co.uk
‹
›